Transforming a Japanese Kitchenware
into a chef's Dishware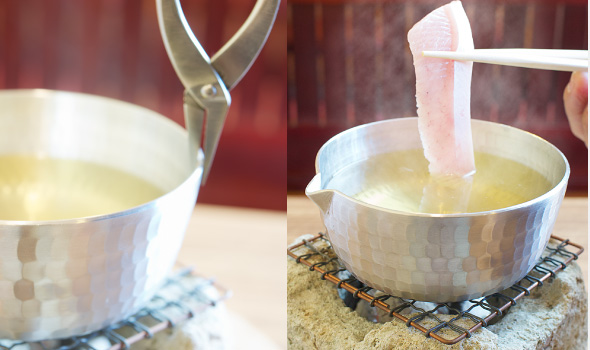 The name "Yattoko" comes from the special pincers used to grab the heated Yattoko pot, which does not have a handle. Because it is handle-less, Yattoko is stackable (it comes in various sizes) and easy to clean.
The lightweight aluminum allows heat to conduct uniformly, accomplishing its function as a kitchenware as well as a dishware.
The black coating uses ceramic paint, which is durable and hard but also friendly for the environment. Also, the "Yattoko" has a heat resistance of 600°C, enabling culinary possibilities to spread among wide categories of food.
In 2013, UNESCO registered "Washoku," which is traditional Japanese cuisine, as intangible cultural heritage. The professionals of Washoku often use a pot that has no handle called "Yattoko nabe." Commonly known as "Yattoko," it is an almighty pot that can be used for essential tasks such as extracting umami from broth, stewing, steaming, frying, sautéing, mixing, and for giving the food its finishing touches.
By combining the originality and ingenuity of traditional Yattoko, Washoku chefs, and artisanship of local craftsperson, we created the "Omoeraku Yattoko" which has an added use as tableware.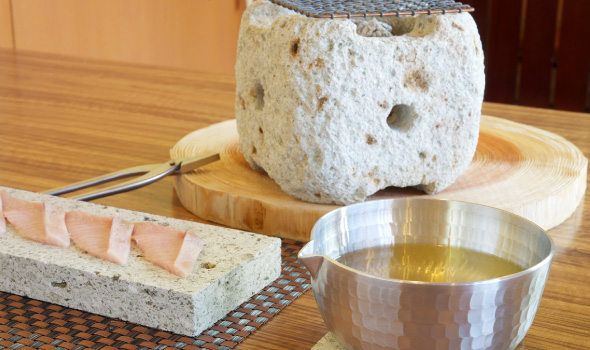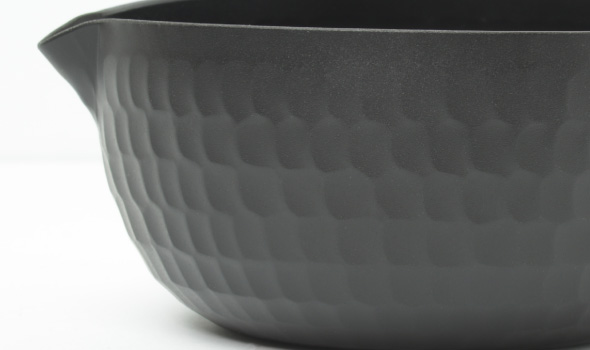 The distinctively dented pattern, each hammered by a craftsperson, increases the solidity and strength of the pot. Further, the simple, beautiful handmade design enhances the food's attraction.
It is ideal for serving warm dishes such as vegetable assortments that use umami broth, stewpots, shabu-shabu(thinly sliced meat parboiled in hot soup cooked over open fire), Salamander broilers, and oven.
The matte look suits cold dishes as well.The small sizes are also great as a lipped bowl for dips and sauces.