We created Omoeraku table knife and fork
using the chef and craftsperson's creativity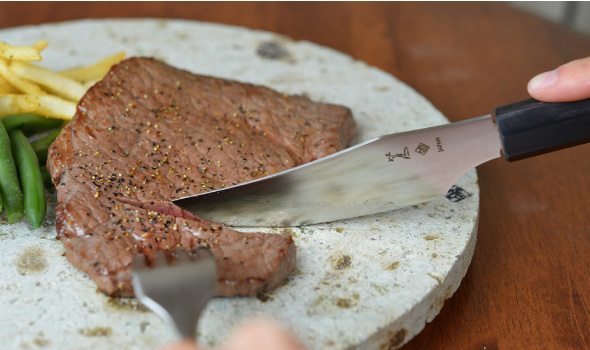 The original combination and individuality strike a balance between a dsign based on Japanese traditional knives and innovative evolution of art and imagination in the modern culinary scene, bringing the atmosphere of live cooking to your dining table.
Utilizing a Japanese knife design that firmly grips but lightly fits into the hand, the user can experience the delicateness, which matches well with intricate dishes.
We pursued lightness, yet considered an essence of weight and size that suits this design. When the wooden handle outlives its use, it is replaceable with a new wooden handle.
Using quality kitchenware and tableware for a long time by caring for it is at the foundation of Japanese culinary culture.
This new form of Omoeraku table knife is made in Sakae City, Osaka, famous for its traditional Japanese knife blacksmiths. It uses top Japanese quality high carbon stainless steel, which resists rust and corrosion and has a superior sharpness, making the same type of material suitable in the medical field as surgical knives.
The knives are suitable for both left and right-handed users because of the double sword blading and octagonal grip.
The food will cut extremely smoothly by pushing lightly and gliding the knife, allowing the user to concentrate on the enjoyment of food.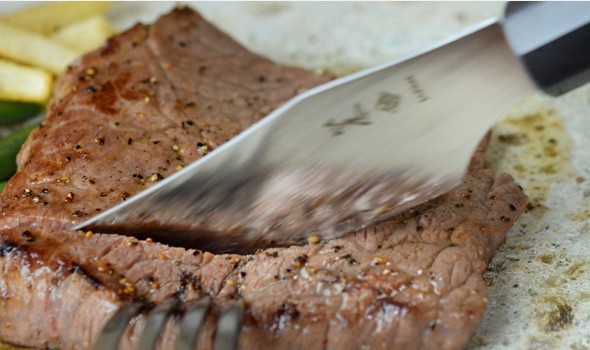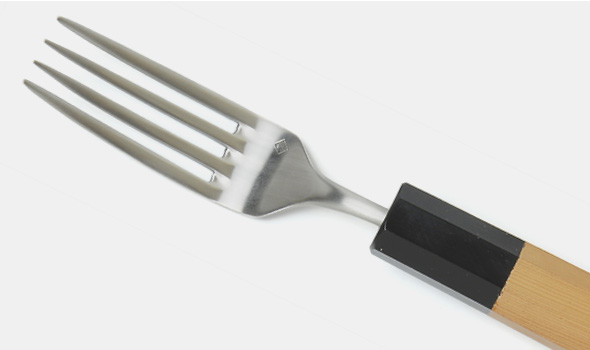 The table forks are made in Tsubame City, Niigata, which is a world-renown producer of cutlery. It uses SUS304 stainless steel, which is durable and scratch and corrosion resistant. The base is thickset and creates a beautiful contrast between the wooden handle and the thin, long matte fork blade. It is a simple yet sophisticated design, enabling long use and enjoyment.
The handle is made of "Ichii" (Taxus cuspidate), a traditional hardwood used for Japanese knives, naturally resistant to water.Its beautiful wood grain shows the white and reddish brown tree rings.
Also, "Ichii" means "Number One," signifying how historically this wood has been used to decorate sacred Shinto shrines, bringing good luck to the people.

unit "寸-sun-"
3.3cm = "1sun"